To drop one or more classes, select the Drop Classes option in the left-hand navigation. (Please note: you cannot drop your last class or all of your classes online. More information on dropping classes can be found at /frequently-asked-questions#Registration5)

Mobile Navigation: the left-hand navigation menu on a mobile device will be represented by a blue box with two vertical white lines. Click this icon and you will see the left navigation menu.

Terms in which you are registered will display, select the term in which you would like to drop a class.

Once you select the term, you will be shown a list of all the courses you are currently enrolled in for that term.

Click the checkbox next to the class(es) you would like to drop.

Click the Next button in the upper right of your screen or the Review and Submit option on the left navigation.

Click Drop Classes.

You will be asked to confirm. If you are ready to drop, click Yes. Once the class is dropped, you will see a message confirming the class has been dropped.

Mandatory Classes: You will not be allowed to drop a mandatory course, but you can Swap it with another section.
Reviewing Enrollment Transactions
Once you have finished your enrollment transactions; add, drop, swap, or update, you will see all of the changes reflected in your Class Schedule which can be viewed by clicking View My Classes.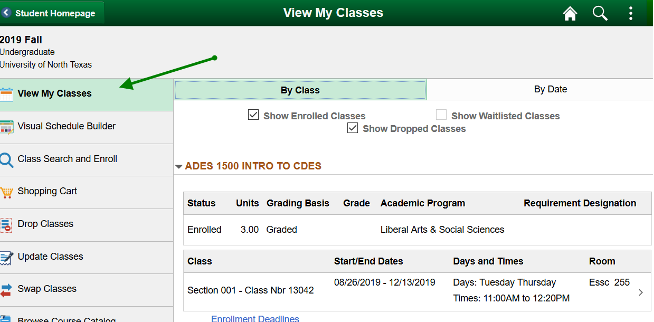 In addition, you will likely want to review any tuition and fee changes on your account. To do so, return to the Student Homepage and select the Student Account tile.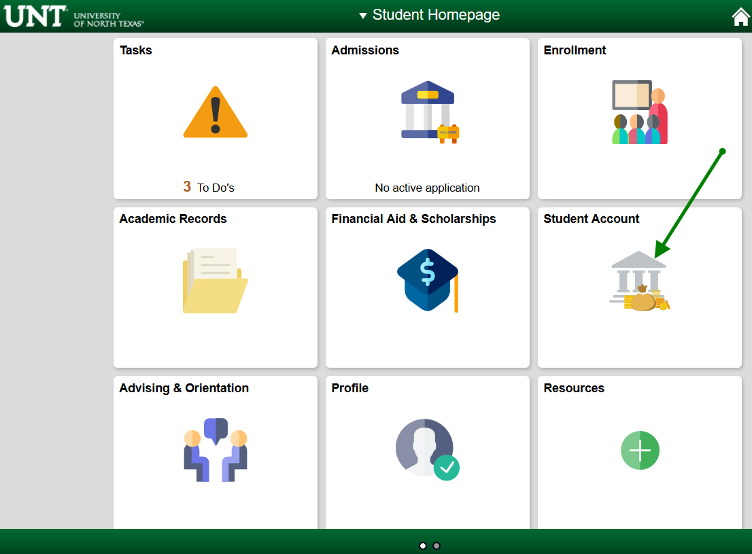 Registration Resources
---
Questions? Scrappy has answers!
Scrappy Says is your online resource for help topics about course registration, records, financial aid, your student account and more. Find answers or schedule an appointment today!